PISE rebrands from Sport Excellence to Sport Education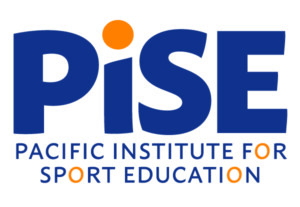 (Victoria, BC – November 1st, 2022) PISE is excited to announce a modification of their brand, with the release of a new logo and updated name. The Pacific Institute for Sport Excellence is now the Pacific Institute for Sport Education. The organization will continue to be known as PISE.
Updating to the name Education aligns with PISE's new strategic plan reinforcing its ongoing growth in education, while continuing to uphold the quality and high standard that the organization is known for in program and service delivery.  The name also compliments the strong partnership with the Camosun College Centre for Sport and Exercise Education that is housed at PISE.
"PISE's name change from Pacific Institute for Sport Excellence to Pacific Institute for Sport Education represents our growth and enhanced emphasis on community health and wellness education in our services and programs, through the medium of sport and physical activity," says Robert Bettauer, CEO. "With our work in physical literacy in the elementary and middle school system, leadership in strength and conditioning along the performance development pathway and delivery of the Canadian Sport School, it is a natural evolution of the brand."
Education is the first step to excellence. Updating the name to include Education aligns with PISE's updated vision, mission, values, and goals in the new four-year strategic plan released for 2022-2025. Throughout all levels on the participation pathway, PISE builds knowledge in physical activity and sport. From assuming operations of the Canadian Sport School, growing its nationally recognized Physical Literacy programs, and continuing to offer leading edge programs and services to all ages and abilities, PISE provides the community with opportunities for growth, sport education and healthy and active living.
Information on PISE programs and services can be viewed on www.pise.ca
-30-
For more information contact:
Maria Taylor
Marketing and Communications Coordinator, PISE
250-220-2501
Background
PISE is a charitable non-profit organization that provides education, programs, and services across South Vancouver Island, while managing the Pacific Institute for Sport Education facility. PISE is nationally recognized for work in the areas of physical literacy and inclusion and also delivers the esteemed Canadian Sport School program for high performance athletes in Grades 10 to 12.
PISE's vision is to transform lives through healthy activity and sport by providing physical activity, health and sport education programming and services for children, youth and adults that focus on inclusion, physical literacy, active living, and the development of performance sport.
The delivery of PISE's programs is dependent on the generosity of our community.   PISE expresses its great appreciation and thanks to its donors and sponsors for helping us build a healthy community!
Proud member of the Regional Alliance.