By: Limara Yakemchuk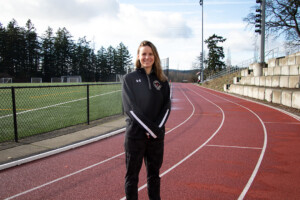 PISE's Canadian Sport School (CSS) offers a unique split-day program where students focus on both academic and athletic development. There is a range of athletic backgrounds within the CSS program, with this year's cohorts boasting over 12 different sports. Canadian Sport School Coach Lindsay Lynk understands the importance of becoming a well-rounded athlete and her weekly programming demonstrates that. Students spend their week training for speed, strength, and mobility while also allotting time for educational seminars and catching up on studies. Beyond physical training, students are able to learn about specialized topics such as nutrition, mental training, injury prevention, running mechanics, and more. The balance of academics and athletics in an environment of other driven, high-level athletes allows students the one-of-a-kind opportunity to train with experienced coaches while earning academic credits.
Lindsay Lynk stepped into the coach role for the 2022/2023 school year after spending the last 12 years of her career working with a multitude of young athletes who went on to have successful careers at the college, world, and Olympic level. Even better, Lindsay saw these athletes develop a love for strength and conditioning that continued past their competitive days. Lindsay holds a BSc with a double major in Political Science + Kinesiology, and a number of certifications including but not limited to: NSCA Certified Strength & Conditioning Coach, CSEP Certified Clinical Exercise Physiologist, NCCP Olympic Weightlifting Level 1 Certified, and is currently completing a coach mentorship through Altis. Lindsay's greatest desire as a coach is to leave a positive impact on the athletes she works with!
In coming years, students can continue to expect excellence from the Canadian Sport School. This program is catered towards athletes with a high-performance attitude in all aspects of life. Everyone in the program, including coaches and teachers, show up every day to be intentional and do the best they can. In 2023/2024, CSS will continue to build while carrying on with the successful structure and progressing one year to the next.
Does the Canadian Sport School sound like a good opportunity for your student athlete? Join us for Info Night on February 15th (virtually) from 5:30 – 7:00 pm. Register here.