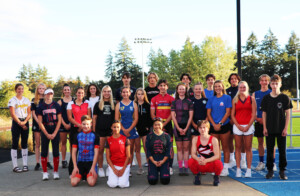 PISE is excited to welcome the Canadian Sport School (CSS) class of 2021-2022, PISE's first class after assuming operations.  The class of 2021-2022 includes 25 students from grades 10-12 from 10 different schools across the Capital Regional District (CRD).
Established in 2011 by CSI Pacific and delivered across the province of B.C., the Canadian Sport School facilitates a high-performance culture amongst like-minded athletes while providing support, coordination, and advocacy between student-athletes, their high school teachers, and sports coaches. Elite high school athletes can often struggle to manage their time, commitments, and the demands of being a student along with the expectations of being a high-performance athlete striving for excellence. The CSS helps alleviate these pressures by helping balance athletics and academics.
This year's cohort represents 15 different sports, with 11 students as dual-sport athletes. These students are excelling in their chosen sports. Canadian Sport School Coach Laura-Ellen deVries could not be prouder of them. "We would like to welcome the 2021 sport school cohort to PISE. With 25 athletes from varying sports, such as field hockey, volleyball, tennis, softball, cycling, soccer, and gymnastics, we look forward to a successful year full of academic and athletic accomplishments!"
Returning student Reece Carter is one of the many exceptional students. In September, Carter won Canadian Nationals in doubles and placed third in singles at the U18 Canadian National Championships. As a third-year CSS student, sport school has helped Carter grow as an athlete. She claims that, "CSS has not only made me physically stronger but it has given me valuable skills such as leadership, accountability, and communication making me become a more positive and confident athlete."
PISE and CSS Victoria also welcome new teacher Martin Haaf, a University of Victoria graduate with a Bachelor of Education, Majoring in P.E. Secondary Curriculum.