By Limara Yakemchuk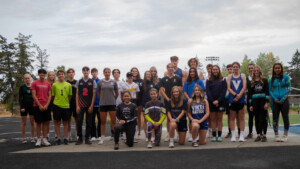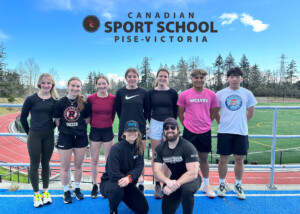 As the weather gets warmer and summer looms closer, so does graduation season. For our graduating Canadian Sport School (CSS) students, 2023 marks the end of their time at CSS. We asked six of our graduating student-athletes, Alex Barlee, Graeme Kidd, Nathan Cho, Arokya Shrestha, Angus Kidd, And Ava Dahl, to reflect on their time at CSS. When asked their favourite part of CSS, all six students said the same things: being around like-minded athletes with lofty goals, getting to know each other, and the teaching & coaching staff. Utilizing PISE's state of the art facility and getting to experience the unique blend of classroom study and athletic training is one of the other perks they mentioned of participating in the CSS program.
Alex noted while she had too many good memories to count, gymnastics training and all of the hijinks that came with trampoline work and the looks on everyone's faces as they navigated various flips was one of her favourites. Angus and Graeme also recalled gymnastics as their favourite memory during their time with CSS – specifically one student getting temporarily stuck within a foam barrel during their first session. Nathan and Arokya's favourite memories were meeting new people through CSS, while Ava had fond memories of playing Spikeball.
So, what's next for this bright group of young athletes? Alex plans to continue training while deciding which sport to specialize in through the summer before beginning studies at UVic in the fall. Nathan, Angus, and Ava plan to continue with their respective sports of soccer, basketball, and volleyball as they move to post-secondary. In the fall, Nathan will be starting at University of Alberta, Ava will be starting at UBC Okanagan, and Angus is yet to decide. Graeme and Arokya will be heading international, with Graeme planning to take a gap year to volunteer in South Africa and Costa Rica, and Arokya heading across the pond to England to pursue soccer.
Being around like-minded people was something all six noted as a benefit of CSS, and it is clear from their athletic and academic goals for the future that ambition is a common trait. Alex hopes to make a national team and to become a doctor specializing in sport medicine. Graeme, Nathan, and Angus are aiming to continue to play their sports at the USport Level and to continue playing after post-secondary graduation, as well as good grades throughout their undergraduate programs. Arokya hopes to sign with a semi-professional team in England, and Ava would like to play 4-5 years of USport volleyball before heading to a pro team in Europe.
All six students are happy to have spent their time in the CSS program, and we wish them the best of luck as they move into this exciting new chapter. Here's to you, Class of 2023!