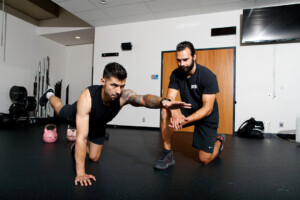 Meet PISE Coach Mark Kopij! Mark has been part of the PISE team since early 2022, and has always been keen on physical movement. As far as he can remember, Mark has enjoyed being active in many forms. Throughout his school years, he played a variety of sports including a ten year stint playing football prior to moving to BC.
Mark came to Victoria to continue his education and is currently in the midst of completing a Masters of Education with a specialization in Coaching Studies through the University of Victoria. This accreditation will join his Bachelor of Kinesiology from Brock University and Graduate Certificate in Exercise for Health and Performance from Niagara College. He has always been drawn to strength and conditioning with his main interest being to help people lead a healthy and functional life through exercise. Mark coaches multiple programs at PISE and especially enjoys working with athletes of all kinds. Seeing his clients gain confidence is one of his favourite parts of his work, and he loves to hear success stories! Mark values all of the clients he has the privilege of working with, and his favourite memory of his time as a coach was a client who made incredible improvements to his well-being.
In his spare time you can find Mark exploring the island, spending as much time in the sun as he can, and of course, staying active.